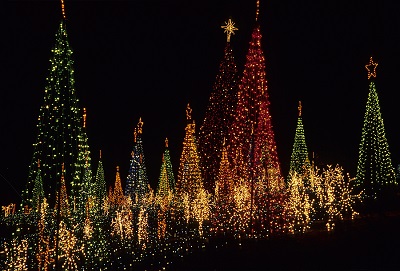 Portlanders love Christmas time. It is a time for everyone to get together with their loved ones and enjoy all the activities that Portland has to offer. On a normal non-COVID year there is a lot of wonderful Christmas activities that locals and tourists can participate in. Events range from light displays to holiday shopping, tree decorating, and much more. Unfortunately, COVID has canceled some of these events this year, BUT there are still four awesome events that you can participate in. Arguably, they are the best ones. So, let's check them out!
ZooLights at the Oregon Zoo
ZooLights is one of the must-do activities during Christmas time. It is a Portland staple. Every year the Oregon Zoo decorates the whole property with beautiful light displays. The Oregon Zoo displays over 1.5 million lights. During ZooLights you also get to see all of the animals that the Oregon Zoo is home to. In normal non-COVID years, attendees walked through ZooLights or rode the Oregon Zoon Train. There is even a BrewLights event for adults. However, because of needed health and safety precautions, ZooLights is drive through this year. If you are worried that ZooLights won't be as magical this year because of COVID, don't! It is just as beautiful as years before.
Winter Wonderland
The Winter Wonderland at Portland International Raceway (PIR) is something that both Oregon and Washington residents look forward to every year. It is by far one of the largest if not largest light shows located in the Pacific Northwest. The beautiful light show spans the whole raceway. Due to COVID, Winer Wonderland is drive-through only. On your drive, you will see over 250 different light displays. There are even fully animated scenes. This year PIR is hosting their light festival from November 27 – January 2nd. Which gives you ample time to enjoy all the Christmas magic.
Portland's Singing Christmas Tree
Portland's Singing Christmas Tree is a musical production that both the young and old look forward to every year. This fantastic event is a two-hour musical production that helps everyone feel the Christmas Spirit. The show features contemporary and classic holiday music performed by a choir that has over 350 members. The show even has dancers and a cinematic live nativity. Portland's Singing Christmas Tree is usually hosted at the Keller Auditorium. Unfortunately, due to COVID, the performance this year will instead be a live broadcast.
Festival of Trees
Every year Safeway and Providence hosts the Providence Festival of Trees. The proceeds of this event Providence Children's a Health, an organization that provides healthcare to children with special healthcare needs. The theme of this year's event is Home for the Holidays. Because of COVID-19, the event is being hosted virtually. So, you can enjoy all the event has to offer from the comfort of your own home. Attendees will view a beautiful selection of trees and Christmas displays that have been decorated by our local community businesses, designers, florists, and awesome volunteers. You can also bid on some fantastic raffle items and donate to Providence Children's Health.
You can find rental properties in the Portland area by visiting our rental page!
Looking for information on owning rental homes? Check out our latest blog 5 Things to Prepare Your Rental for Winter.