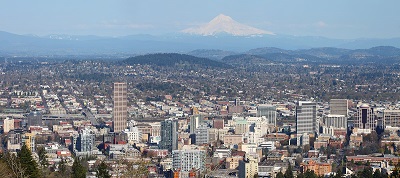 If you are in the rental property business, you want your rental properties to be successful. What better way to have your rental property be a success than to buy homes in an area that is absolutely amazing. Portland, Oregon and its surrounding cities are extremely special. They are beautiful, have amazing amenities, and are full of great people. Let's take a look at the top areas in and around Portland for rental property investments.
SE Portland
Southeast Portland in general is fantastic! It is thriving and is an awesome place to invest in rental properties. Southeast Portland is known for being the trendy but also family friendly area in Oregon. It is full of brewpubs, restaurants, and other awesome activities. It also has awesome nature parks.
Eastmoreland
If you like the vibe of Southeast Portland that we previously discussed, check out Eastmoreland. The neighborhood features large homes and gorgeous gardens. Eastmoreland does not have a lot of neighborhoods or shops. So, it is perfect if you are looking for a quieter place for your rental property. Although it is lacking the amenities that the neighborhoods that are closer to downtown have, Eastmoreland does have its own golf course.
North Portland
If Southeast Portland is not your thing, check out North Portland. Like Southeast, it is full of awesome things to do. In North Portland you can find the Oregon Zoo, the Portland Japanese Garden, and the Portland Art Museum. You can also get some tasty bites to eat in this area.
Arlington Heights
If you are looking for a scenic neighborhood, look no further than Arlington Heights. It is an awesome place that is full of wonderful walking trails and gorgeous views. Arlington Heights is nestled into Washington Park, which makes it an amazing place to live if you like to be outdoors.
Healy Heights
Healy Heights isn't as popular as other neighborhoods in Portland, but it is severely underrated.
If you are looking for the perfect suburban place to settle down by yourself or with your family, Healy Heights is for you. It is quiet, pretty, and lovable.
Marshal Park
If you are looking to expand your rental investment properties into Southwest Portland, look no further than Marshal Park. This neighborhood is a great match if you are looking for an amazing view that is also close to the amenities PDX is known for. When you have a home in Marshal Park, you will surely attract potential renters that are nature lovers.
Sabin
Sabin is a small neighborhood with a lot of pizazz. It is an almost exclusively residential neighborhood, making it a great place for families or someone who wants a quieter spot. However, Sabin is also super close to downtown which makes it a great place to live if you do want easy access to a host of amenities. The neighborhood is a quick walk to the Alberta Arts District and Fremont St.
Alameda
Alameda is one of the chilliest Portland neighborhoods you can find. One of the best parts of the neighborhood are the residents. They are caring and welcoming. Alameda has a great suburban feel and also boasts a bunch of amazing amenities like restaurants and shops.
Beaverton
If you don't want to invest in Portland, but still want something close by, check out Beaverton. This awesome area is close enough for your residents to drive to all of the Portland amenities, but far away enough that they can live a quieter life. Beaverton has its own amazing amenities to offer as well. It is full of great places to eat, drink, and hang out.
Hillsboro
Like Beaverton, Hillsboro is close to Portland. Hillsboro has great nature places, tasty places to get food, and has a trendy downtown. This suburban area of PDX draws in a lot of new residents because it houses a lot of tech companies. The biggest being intel.
Happy Valley
Happy Valley is one of the more popular suburban areas outside of PDX. The area is known for being a safe and fun place to live. If you want to draw in renters that want a quiet and relaxed life, definitely choose to invest in Happy Valley.
Are you a rental property owner looking for some tips and tricks? Check out our blog!
Are you someone who is looking for a property to rent? Check out our available properties!