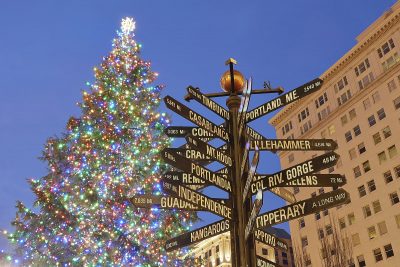 Portland, Oregon is full of so many different people from different cultures, religions, and backgrounds. The diversity of Portland is one of the many things that make the city so great. Because there is so much diversity here, there are lots of different fun events. With the holidays now upon us, this means that Portland is full of a variety of different Holiday events. Let's check out the different options!
Winter Wonderland
The Winter Wonderland is one of the best Christmas activities during Covid. You can get out with your loved ones, but still, stay socially distanced from others during this event. Every Christmas season, the Portland International Raceway is decorated with a huge display of Christmas lights. Event-goers stay in their car and drive through the wonderful display.
Festival of Trees
Portland is known for its Festival of Trees. Unfortunately, because of Covid, the Festival of Trees will be held virtually this year. But don't worry, it will be just as magical! View amazing trees and Christmas decorations while also taking part in the fundraiser for Providence Children's Hospital.
Crafty Wonderland
Who doesn't love to craft during the holidays? DIY gifts are always a hit for your loved ones! Crafty Wonderland is Portland's Holiday Craft Bazaar that helps you make all of your DIY dreams come true.
Menorah Lighting
Portland's holiday activities are not just Christmas-themed. Portland's Hanukkah menorah will be lit at Pioneer Courthouse Square. You don't want to miss it because there will be plenty of Chanukah foods a lot of fun activities.
Alberta Street Holiday Gift Show
One of the coolest things about Portland is its art and craft scene. The Alberta Street Holiday Gift Show is set up to show off the work of 30 awesome artists. Their work is available for purchase too! You are sure to find a great gift for someone you love this season.
A Pittock Mansion Christmas
Pittock Mansion is a sight to see in Portland on any given day, but add in some holiday cheer and you have an even more spectacular sight. Each year, volunteer decorators decorate the various rooms in the mansion for the Holidays. This year's theme is Critters Make Merry.
Holiday Half Marathon
If you are a runner and love holiday cheer, the Holiday Half Marathon is for you. The race takes place in Portland on Swan Island. Two of the coolest things about the race are the carolers that sing to you while you run and the gingerbread cookie aid stations.
New Year's Eve with Gladys Night & The Oregon Symphony
When you pair Gladys Night with the Oregon Symphony, you get one amazing musical event. You can't ring in the new year in a cooler way. The concert takes place at the Arlene Shnitzer Concert Hall.
The Portland Bazar
If you love shopping during the Holiday season, then you need to go to the Portland Bazar. This pop-up event happens at Pioneer Square in December. You can choose holiday gifts for your friends and family from over 30 different vendors.
ZooLights
ZooLights is a favorite of Oregon residents. The Oregon Zoo goes full out on their Christmas displays, so you and your loved ones can simply stroll around the Zoo looking at the animals while also viewing one of the best Christmas displays in the PNW. ZooLights is completely family-friendly and anyone of any age can enjoy it.
For tips and tricks on owning a rental home check out our blog. If you are looking for a rental property to live in, check out our available homes.