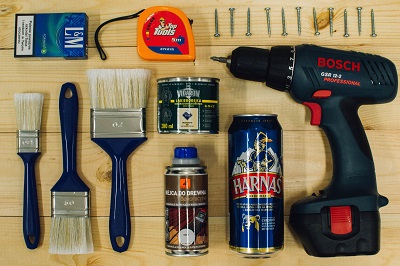 Every rental owner wants their rental to appeal to future tenants. In order to have this happen, rental properties need to look clean, well taken care of, and updated. You might be thinking that updating your rental properties has to be expensive. But, it doesn't! Let's take a look at affordable ways to make your rental more appealing to potential tenants.
Fresh Paint
Making sure that your rental has new paint is one of the easiest and most affordable ways to make your rental more appealing to potential renters. A new coat of paint can make the space feel clean and fresh. It shows potential renters that you want to keep the rental in good condition and looking nice.
Add Lighting
People love bright rooms. Update your old lighting to newer and brighter lighting to make the room come alive. You can find relatively inexpensive light bulbs to add to the existing light fixtures in the house.
Minimize Your Furniture
Have the least amount of furniture inside your rental as possible. With an open space, renters can come in and imagine making that space their own. It is a lot harder for people to imagine what their furniture would look like in a rental if it is already full of your furniture.
Change Out the Hardware
It can be tempting to change out things like the dishwasher, oven, and other large pieces, but you can make your rental more appealing by simply changing out the small hardware. If you change out doorknobs, light switches, and drawer pulls, you can give your rental a more modern look.
Clean Up the Yard
If your rental has a yard, make sure to clean it up. Keep the grass mowed, the weeds pulled, and the leaves picked up. A clean yard goes a long way in making a good impression.
Restain Kitchen Cabinets
The kitchen tends to be a focal point for a lot of renters. If your kitchen cabinets are looking outdated or worn out, it is time to paint or restain them. By giving your kitchen cabinets a new look, renters are more likely to fall in love with the kitchen and therefore fall in love with your rental property.
Spruce Up the Outside of Your Home
The outside of your home is what potential renters see first. One of the easiest things you can do is change the address numbers on your rental property. Getting rid of the same old address numbers everyone has and adding fancier ones can draw a potential renter's attention. You can go out and buy new numbers or create them yourself.
Think about painting the front door or changing the mailbox as well.
Add Molding
Adding molding around your house can make originally boring walls look more aesthetically pleasing. You can get creative with the molding and achieve any look you want to for a low price.
Add an Accent Wall
Adding an accent wall to a main room can add a splash of fun to your rental. They are not super common but are loved, which makes your place stand out when compared to other rentals people may be viewing.
Update Window Treatments
Window treatments aren't usually the first thing that rental owners think of when they are updating their properties. However, outdated window treatments can make a house look aged quickly. Changing out your old window treatments can make your rental more eye-catching.
Deep Clean
Before potential renters come to look at your property, make sure you deep clean the space. Wipe down the counters, vacuum, mop, and clean the mirrors. A dirty space is one of the quickest ways to deter people from wanting to rent your property.
Want more rental tips? Stay tuned for our next blog.