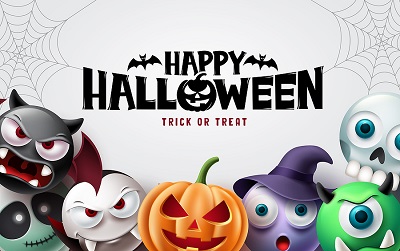 Halloween is right around the corner! Who is ready? The Pacific Northwest is one of the best places to celebrate the spooky season. Portland and the surrounding areas have some of the best activities to get you into the Halloween spirit. There is a great mix of family-friendly and scary activities to choose from. Let's go over the top five Halloween activities that are musts in the Portland area.
Pumpkin Patch
You can't fully enjoy the Halloween season without visiting the pumpkin patch. Portland has so many different pumpkin patches within close driving distance. Two of the most popular are the Sauvie Island Pumpkin Patch and Roloff Farms. Every pumpkin patch in the PDX area has so many great aspects to them. You can expect to find awesome pumpkins, corn mazes, haystacks, petting zoos, hot chocolate, yummy treats, and so much more.
Shopping for Costumes
Dressing up for Halloween is not just for kids. Someone of any age can enjoy this aspect of Halloween. There is definitely not a shortage of costume stores to choose from. Some of the favorites in Portland include Hollywood Vintage, Spirit of Halloween, and Lippmann Co. From spooky, to sweet, and everything in between, these costume stores have you covered.
Howloween
If you are looking for a family-friendly Halloween event, make sure to check out Howloween at the Oregon Zoo. Kids can come dressed up as their favorite Halloween characters and learn all about the animals and the various exhibits. There is even a fun scavenger hunt!
Spirit of Halloween Town
Did you know that the very popular Halloween movie Halloween Town was filmed just outside of Portland? Yep, it's true! Halloween Town was filmed in St. Hellens. The town goes full out in celebration to remember the movie that was filmed there. Come see the famous pumpkin, take a haunted tour, and participate in the costume contests.
West Coast Giant Pumpkin Regatta
If you are looking for a laugh during this Halloween season, don't miss the West Coast Pumpkin Regatta. This event is held in the Tualatin Commons. The event consists of a series of different races where people maneuver large gourds through the watercourse on Tualatin Commons Lake. It is definitely a sight to see.
No matter the event you choose, you are going to have a great time while celebrating Halloween in Portland. You can't go wrong with whatever event(s) you choose!
For more tips and tricks on owning a rental home check out our blog. If you are looking for a rental property to live in, check out our available homes.